Written by: John Wilkinson/Snowdon Sports
Photo by: Craig Zadoroznyj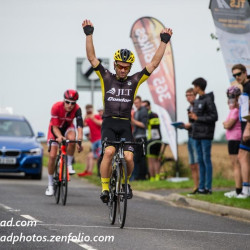 Building up for the Tour of Britain, Graham Briggs (JLT Condor) completed a successful August with victory in a two-man sprint on his home patch.
The outcome came down to a battle between the last two winners of the 130-km race, and Briggs – successful in 2013 – proved too good for defending champion James Gullen (Velosure Starley Primal), crossing the line with a two-length advantage.
The pair were in a nine-strong break which went clear on the first of the 13 laps and were joined by a chasing group of around 15 riders at half-distance.
Gullen attacked with four laps to go, and the only response came from Briggs who soloed across with the two then working well together to stretch their lead to one and a half minutes at the bell.
The gap came down to around 30 seconds as the front two began a game of 'cat and mouse', Gullen eventually leading out the sprint but Briggs going past to claim the win and Thomas Traviss-Pollard (Polypipe CT) coming home at the head of the chasers.
"James got a little gap and I saw that nobody else was interested in chasing, so I had a go and got across to him," said Doncaster-based Briggs, 32, who was scoring his third win of the month after victories in both the Chepstow Grand Prix and Wales Open Criterium.
"It's been a pretty good month, it all seems to be coming together for the Tour of Britain and my form is there.
"I'm not under any illusions, we've had a few days looking at the route and it's going to be a tough race."

Result:
1 Graham Briggs (JLT Condor)
2 James Gullen (Velosure Starley Primal)
3 Thomas Traviss-Pollard (Polypipe CT)
4 Jack Barrett (Team Moda-ANON)
5 David Clarke (Giordana-Mitsubishi Electric RT)
6 Grieg Burt (Beeston CC)
7 Peter Barusevicus (All Terrain Cycles)
8 Ross Lamb (Beeston CC)
9 Ben Rowe (Achieve Northside Skinnergate)
10 Simon Wilson (Polypipe CT)
Read more at
https://www.britishcycling.org.uk/events/details/118992/Out-of-the-Saddle-Summer-Road-Race#dSfUrV7eQTJjYuvq.99